Ship to Gaza
Mikael Löfgren
Leopard förlag (inbunden, 208 sidor)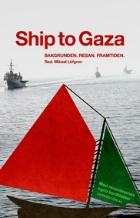 Pris: 40 kr
Det här är en bok om en resa som under några dygn stod i fokus för världens uppmärksamhet och kanske något ändrade historiens gång. Det är en bok om och av några resenärer på Ship to Gaza/Frihetsflottan som i solidaritetens namn seglade med förnödenheter till de instängda människorna i blockadens Gaza. På morgonen den 31 maj 2010 överfölls fartygen på internationellt vatten av israeliska kommandosoldater, som dödade nio passagerare och skadade ett trettiotal.

Det är också en bok om en annan sorts resa. Den berättar om hur en folkrörelse blir till och arbetar i globaliseringens och nätverkens tidevarv. Den reflekterar över aktionsform och medier, folkrätt och civilsamhälle. På några månader lyckades Ship to Gaza-Sverige och våra koalitionspartner i Frihetsflottan åstadkomma vad det internationella samfundet misslyckats med under många år: att mobilisera en global opinion mot Israels illegala, inhumana och för alla parter destruktiva blockad mot Gaza.

Först som sist är det här en bok om och i solidaritet med en tredje sorts resa: det palestinska folkets långa kamp för fred och rättvisa. Den uppfordrar världssamfundet att i handling ta ansvar för den folkrätt och de mänskliga rättigheter som det säger sig hylla: häv blockaden mot Gaza!
Några av våra populäraste produkter