Den etniska rensningen av Palestina
Ilan Pappe
Karneval förlag (inbunden, 334 sidor)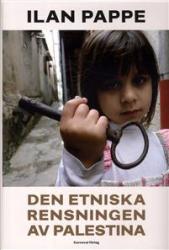 Pris: 190 kr
Den israelisk-palestinska konflikten 1948 kallas av israelerna för självständighetskriget. För palestinierna kommer det att för evigt vara Nakba katastrofen. Då fördrevs omkring en miljon människor från sina hem, tusentals civila massakrerades och hundratals byar förstördes. Fastän sanningen om denna tragedi har undertryckts eller förvrängts, har det blivit allt mer uppenbart för eftervärlden att det var frågan om en regelrätt etnisk rensning.
Den etniska rensningen av Palestina skildrar den israeliske historikern Ilan Pappe i detalj vad som hände 19471948. Boken är bland annat baserad på tidigare hemligtstämplat material från israeliska arkiv och kastar delvis nytt ljus över ursprunget till konflikten. Ilan Pappe visar att massfördrivning redan från början var en central del av israelernas strategi. Han argumenterar kraftfullt för att ett internationellt erkännande av dessa händelser är ett viktigt steg på vägen mot en lösning av hela konflikten. En extraordinär bok med stor relevans för de hittillsvarande, de nuvarande och de framtida israelisk-palestinska relationerna. Richard Falk, professor i internationell rätt vid Princeton University Ilan Pappe är Israels skarpaste, modigaste och mest principfasta historiker.John Pilger, författare och journalist En lättillgänglig kunskapkälla som ger viktiga bidrag till hur man ska förstå den historiska bakgrunden till dagens konflikt...
Utan tvekan, kommer Pappes bok att provocera många läsare, men än viktigare är att den kommer att leda till diskussion.Publishers Weekly Ilan Pappe är israelisk historiker vid Haifas universitet. Från och med hösten 2007 är han gästforskare vid University of Exeter i England. Han har skrivit en rad böcker om Mellanöstern, bl.a. A History of Modern Palestine (Cambridge University Press) och The Modern Middle East (Routledge).
Några av våra populäraste produkter